This blog post will show you how to create a series of welcome emails for every new subscriber.
First we will create a simple "thank you? message to each new subscriber your list gets.
How to create a simple welcome email:
First, log into your Grape Vine Send account located at https://Send.GrapeVine.Club.
Click on "View all lists" in the left menu and click on "Edit" for the list your want to create the "Welcome" message for.  This assumes you already have a list created.
View the screen shot below:

Once you click on the list you want to create the "welcome message" for, you'll see the Subscribe Settings section.  Single Opt-in and Double Opt-in.  It is recommended to leave it as >Single Opt-in.
You can leave the Subscribe Success Page and Subscription Confirm Page empty for now.
On the right hand side you will see the familiar email compose box.  You can do ahead and set a subject and build the body of the email.
Check the "Send user a thank you email after they subscribe through the subscribe form or API"
This will automatically send the email once the end user has signed up to your list.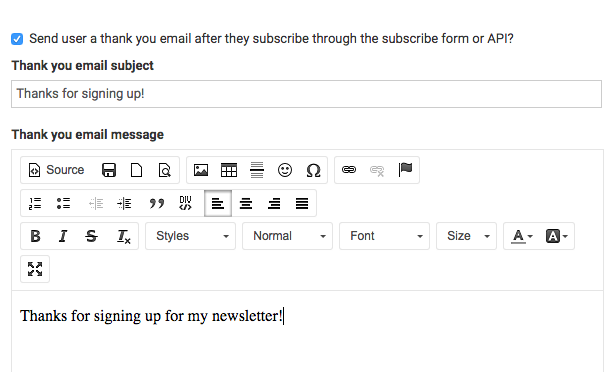 If you want to utilize the Double Opt-in option you will need to send out an email to provide the end user a confirmation link for them to click on.
The good news is that Grape Vine has a default message that it will send for you.  The even better news is that if you want to customize the confirmation message you can edit it below the "thank you" message section.
Please ensure to use the [confirmation_link] placeholder somewhere in your custom email.